Fusion Mineral Based Paint
Just Paint It
The Fusion™ Difference
Built in Top Coat ~ Price ~ Quality & Durability ~ Eco Friendly
At Dark Horse Studio we have been painting furniture for quite some time so we decided to carry a dedicated line of high end furniture paint for our customers. We tried them all. Chalk paint, milk paint, homemade recipes and high end brands. After extensive research we made our choice. Click on the image (right) to see all of the colours on offer.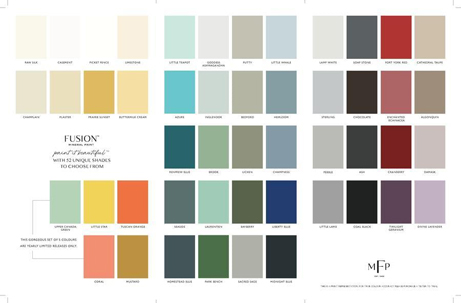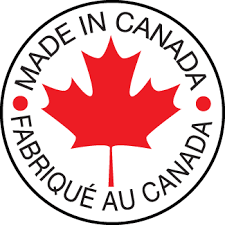 Made in Canada, Fusion's results are incredible, providing furniture painters a best-in-class paint that features; an environmentally conscious formulation, zero VOCs, superior durability, easy one-step application and significantly improved strength. Delivering an exceptional matte finish, this 100% acrylic paint requires minimal prep work! If that isn't enough, it is also a Canadian company!
Check out all of the colours that Fusion offer. Please note, due to variations of computer monitors, actual colours may vary slightly from what appears on your screen.
Instructions
Application: Follow the directions carefully and Fusion can be applied to most previously painted or coated surfaces without priming or significant prep work.

Prep: Start right, end right. There is no paint on the market that is totally prep free. A light sanding and a quick wash with TSP is all that is needed for most projects. If you are painting over very glossy or oil based paints, only then is an initial coat of Fusion's Ultra Grip needed. You project will only turn out as well as your surface was prepared.

No top coat?: Fusion is formulated with a built in top coat, the 100% acrylic resin. You do not need to use a top coat for water permanency!
Tip: On a microscopic level, flat or matte finishes have tiny ridges and valleys when the paint dries. Therefore, finger prints and marking can occur. The marks can easily be removed using a damp cloth, however, if you are concerned about dust marks, apply a coat of FUSION Beeswax Finish or FUSION Tough Coat.

Coverage: Excellent coverage! Fusion paint offers incredible coverage of 75 sq ft per Pint(500ml). In most cases one coat is all you need. Our coverage is outstanding!

Durability: Once Fusion has cured, it yields a highly durable and a washable finish. If you choose, you can of course achieve a beautiful lustre by adding a Beeswax Finish on top, or the Tough Coat. Fusion is dry to the touch after 2 hours and can accept a re-coat after 4 hours. Cure time with all acrylic paints is 21 days, however, painted surfaces can be used gently after 24 to 48 hours of drying time.

Sheen: Fusion is offered in a gorgeous matte finish. This means an almost zero reflectance value that allows you to achieve a beautiful smooth finish.

Distress: Absolutely! This paint is extremely easy to work with, though we recommend distressing soon after the paint has dried. It is very durable, so achieving the same result is tad more work after it has cured! It is recommended to apply a top coat when you distress because you will break open the surface and a top coat will be necessary to prevent water damage and continued distressing through extensive wear and tear.