Bill Wetherall
"I guess I am just bent that way"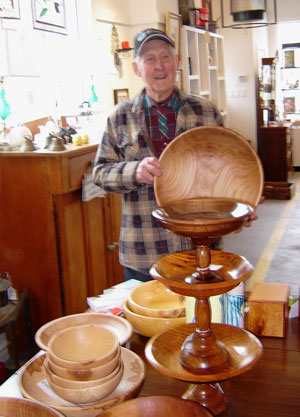 That is how Bill explains his obvious talent and skill for anything involving wood. Bill has been a life long resident of Cannington, and now that he has retired from dairy farming he spends most of his time working with wood.
Most of his raw materials are harvested off of his home farm. We are very honoured that Bill has chosen The Dark Horse as the exclusive shop for his work. Hand turned bowls, snowmen turned from old fence posts and hand turned garden sculptures are just a few of his wonderful creations.
Bill also makes beautiful benches and stools from barn beams and rustic logs. There are generally a few in the shop at any given time.